Standard Duty (UC and NA bearing series):
Self-aligning, 52100 alloy bearing steel, C3 internal clearance, steel cage, NBR seals, zinc galvanized steel shields, lithium ISO 100 NLGI #2 grease, setscrew, eccentric collar or adapter sleeve locking.
Continuous use temperature range: -10°F to 248 °F.
Medium Duty (UCX bearing series):
Increased load capacity vs standard duty. Self-aligning, 52100 alloy bearing steel, C3 internal clearance, steel cage, NBR seals, zinc galvanized steel shields, lithium ISO 100 NLGI #2 grease, setscrew locking.
Continuous use temperature range: -10°F to 248 °F.
High Temperature (HU-KX bearing series):
Self-aligning, heat stabilized 52100 alloy bearing steel, C4 internal clearance, steel cage, silicone seals, 302 stainless steel shields, HTB550 special high temperature grease, setscrew locking.
Maximum use temperature: 500°F, Continuous use temperature range: -45°F to 400 °F.
Stainless Steel (SUC & SNA bearing series):
Self-aligning, 440C stainless bearing steel, C3 internal clearance, stainless steel cage and hardware, silicone seals, 302 stainless steel shields, ISO 220 H-1 food grade grease, setscrew or eccentric collar locking.
Continuous use temperature range: -10°F to 248 °F.
Static Load Rating (Co [kN]): The basic static load rating C0 is defined in ISO 76 as the load that results in a certain value of contact stress at the center of contact of the most heavily loaded rolling element/raceway. The contact stress values are:
4600 MPa for self-aligning ball bearings
4200 MPa for all other ball bearings
4000 MPa for all roller bearings
The stress values produce a total permanent deformation of the rolling element and raceway that is approximately: 0.0001 times the rolling element diameter. The loads are purely radial for radial bearings and axial for thrust bearings.
When any of the following conditions exist, bearing size should be selected based on the static load capacity:
The bearing is not rotating and is subjected to continuous high load or intermittent peak loads
The bearing makes slow oscillating movements under load
The bearing rotates and has to sustain temporary high peak loads
The bearing rotates under load at low speed < 10 RPM
Dynamic Load Rating (C [kN]): The bearing load that will result in an ISO 281 basic rating life of 1,000,000 revolutions
Fatigue load limit (Pu [kN]): Load level below which metal fatigue will not occur. For this to be valid, the lubricant film must fully separate the rolling elements from the raceways and rolling surfaces must be free from indentations, contaminants, or damage related to handling.
Equivalent dynamic bearing load (P [kN]): A calculated bearing load that is constant in magnitude and direction for bearings that experience forces that may not be constant or act both radially and axially. The resolved load acts radially on radial bearings and axially for thrust bearings.
Minimum Load ([kN]): Where there are very light loads, failure mechanisms other than fatigue, such as skidding and smearing of raceways or cage damage can occur. To provide satisfactory operation, rolling bearings must always be subjected to a given minimum load. In general these loads are:
0.01C for all ball bearings
0.02C for all roller bearings
Reference Speed (Nr [RPM]): The assessment of the speed capabilities from a thermal frame of reference, derived from thermal equilibrium under the ISO 15312 standardized operating and cooling conditions
The ISO reference speed is valid for open bearings only, operating under the following conditions:
Radial load P = 0.05Co for radial bearings
Axial load P = 0.02Co for thrust bearings
Temperature increase of 50°C (90°F) above an ambient reference temperature of 20°C (70°F)
Mineral oil lubrication without EP additives, ISO VG32 for radial bearings, ISO VG68 for thrust bearings
Clean conditions
Sufficient operating clearance
Horizontal shaft, rotating inner ring, and stationary outer ring
Limiting speed (Nmax [RPM]: The mechanical bearing limit that should not be exceeded unless the bearing design and the application are adapted for higher speeds. The limiting speed is determined by:
The form stability and strength of the cage
Lubrication of the cage guiding surfaces
Centrifugal forces acting on the rolling elements
Speed-limiting factors, such as seals and the lubricant for sealed bearings
Some open ball bearings have very low friction and the reference speeds listed for them might be higher than their limiting speeds. Do not use only the mechanical speed limit. The lower of the two sets the speed limit.
Bearing heat generation is the sum of the heat generated as a result of the combined bearing and seal frictional power loss and heat flow from adjacent parts or processes. The final temperature of the bearing will be based on the equilibrium of the ability to dissipate the generated heat.
Maximum Temperature: (Tmax [°C]): The maximum continuous use temperature for the bearing design
Minimum Temperature: (Tmin [°C]): The minimum continuous use temperature for the bearing design
Temperature limits for a given bearing type, size, and lubrication conditions are interdependent and can be enhanced or undermined by seal selection, lubrication, loading, speed. and bearing steel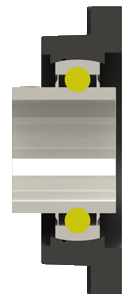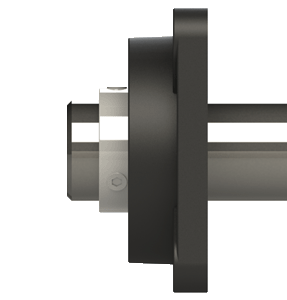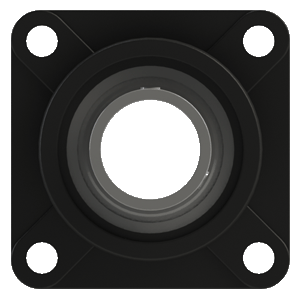 Spherical Outer Race:
Mounted ball bearings have clearance in the bolt holes, can be positioned axially on the shaft, and can self-align by taking advantage of the spherical outer race during installation. Self-alignment should not be active during operation. Regular movement under a dynamic load will create high stress on the bearing raceway lands, leading to early bearing fatigue or rapid housing wear.
Axial movement:
It is often necessary for the shaft to expand axially with high-temperature applications without restriction to prevent buckling stress and damage to connected hardware. For low-speed applications, the shaft can move through the bore by leaving the shaft locking mechanism loose.
Bolt location:
Mounted ball bearing housings have clearance in the bolt holes that allow for locating the bearing properly in the x-axis and y-axis and allow for errors in bolt location on the equipment.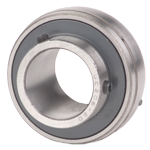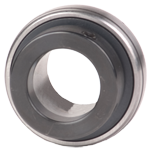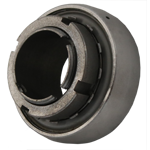 Set Screw Locking:
Two set screws on the bearing inner race are tightened to grip and bite into the shaft to achieve a secure hold. It is the standard shaft locking solution for a wide range of applications. It is both cost-effective and reliable when paired with commercial low-hardness shafting.
Eccentric Locking Collar:
This mounting style features a collar with an off-center counter-bored recess. When mated with the bearing race and twisted, it locks securely to the shaft without screws. It provides a more secure hold and can withstand increased vibration. It can be repositioned without marking the shaft with setscrew divots and works well with commercial or hardened shafting.
Adapter Sleeve Locking:
A tapered sleeve is placed on the shaft and driven up into the bearing bore, creating an interference fit. The sleeve is tightened and secured with a large nut without marking the shaft. This design is ideal for preventing fretting on high-speed equipment such as fans and blowers. Adapter sleeve locking is perfect for any application that must withstand high levels of vibration.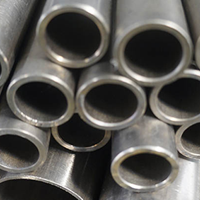 Standard 52100 Alloy Bearing Steel:
Through hardened to RHC 60-63, precision ground, and polished to a low RMS for service to 248 °F
Stainless bearings, 440C Bearing Steel:
Standard corrosion resistant bearing steel, through hardened to RHC 60-63, precision ground, and polished to a low RMS for service to 248 °F. The chemical corrosion resistance of alloys varies greatly depending on the environment. New applications should be evaluated to determine the best solution to prevent corrosion.
High temperature bearings, Heat Stabilized 52100 Bearing Steel:
Hardened 52100 bearing steel is tempered at 500°F - 550°F to precipitate fine carbide and eliminate retained austenite created during quench hardening. This process produces bearing steel with low residual stress that will not be impacted by irreversible material volume changes caused by repeated exposure to hot and cold cycles or significant softening from further tempering. After treatment, the bearing is ground and polished to a low RMS and rated for continuous service from 400 °F to 500 °F depending on the exact process used.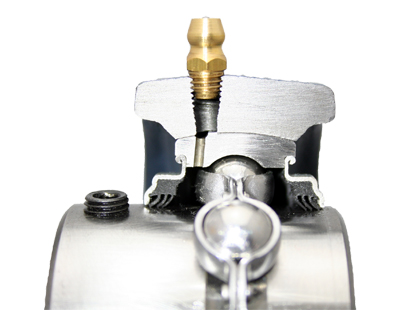 B-Type Seals and shields:
The standard bearing seal and shield configuration for mounted ball bearings includes a single lip contact seal between the inner race and outer race to exclude contamination and a low clearance metal shield to block larger debris and directed sprays from the bearing face. When the bearing is properly greased, this configuration is highly effective for most applications across a wide range of speeds. It is available in standard, high temperature, and corrosion-resistant construction.
L3-Type Seals:
A more specialized triple lip contact seal used for wet, washdown, or highly contaminated environments with a high degree of liquids. It dramatically increases positive sealing and liquid exclusion but is more sensitive to high speed given the larger contact seal area. The ideal use is on low-speed conveyors or intermittent actuation applications.
Open or Naked Bearings:
For bearings listed as open or naked, there is no seal or shield provided. This most commonly is selected when the temperature of the application is destructive to all seal options and pumpable lubrication. The customer must determine how best to utilize the bearing, protect the surfaces if necessary, and replenish lubrication effectively.
Grease is part of the seal:
All sealed mounted ball bearings ship with standard factory lubrication unless specially requested otherwise. Grease plays a critical role in seal performance. Bearings must be adequately lubricated to wet the contact area between the bearing races to prevent ripping or wearing the and elastomer seal surface. Additionally, various grease grades can be selected to optimize resistance to washout, corrosion, fluids, and heat.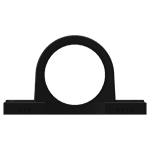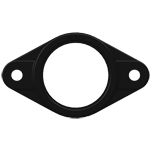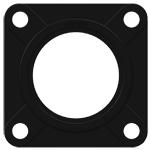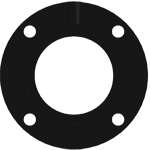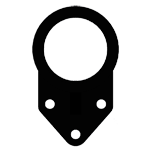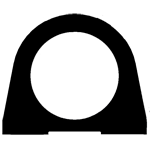 Grey Cast Iron:
The standard housing: 35 ksi grey cast iron with an enamel paint exterior finish, machined with a precise H7 spherical bearing seat. Provides reliable service for most industrial applications.
304 Cast Stainless Steel:
Manufactured with extra smooth walls that will shed contamination and resist rust, machined with a precise H7 spherical bearing seat. Provides excellent corrosion resistance and strength that will not be compromised by chipping, scratching or heating of the surface.
Split Cast Ductile Iron:
Maximum strength and durability in a split 65-45-12 ductile iron casting and a precise H7 spherical bearing seat. The split design allows for rapid exchange of the bearing without the need to reset the flange alignment. Ductile iron naturally weathers and resists further oxidation for long term service in harsh conditions.
PBT Thermoplastic:
Economical, smooth, glass reinforced PBT resin. For light duty, -10°F to 210 °F applications, where resistance to oils, fluids, and chemicals found in food processing is a priority.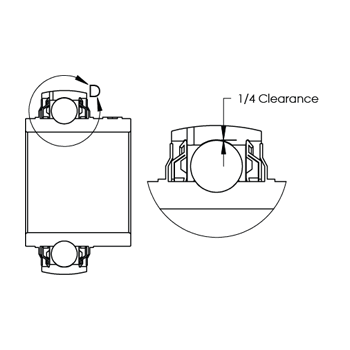 The ball or rollers running inside the bearing require clearance to rotate. Lower clearance increases the precision and load capacity, but increases operating temperature and the chance of thermal distortion causing binding. For most industrial applications, class C3 or C4 clearance will provide the best overall performance. High precision applications, such as machining center spindles and instrumentation, may require tighter tolerance from C0-C3.
C3 Clearance:
Most commonly used internal clearance class for applications up to 248 °F. Typically used with "standard" ball bearing construction
C4 Clearance:
For high temperature applications from 248 °F to 500°F or when a high interference fit is needed to secure the bearing.
C5 Clearance:
For very high temperature applications using specialty alloys over 500°F or when a high interference fit is needed to secure the bearing.
Products With C4 Clearance
Available on all bearings listed as high temperature
Any stock self-aligning ball bearing or spherical roller bearing can be ground to C4 on request
C0-C5 non-stock Clearance
For non-stock internal clearance from C0 to C5 contact HTB. Many units can be ground or made to order
Custom Factory Grease: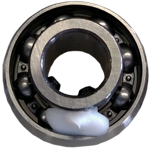 Application specific lubrication can applied to any Mounted HU-KX or open bearing. Any fully sealed custom construction unit can be factory lubricated to order.
Anti Corrosion and Wear Treatment: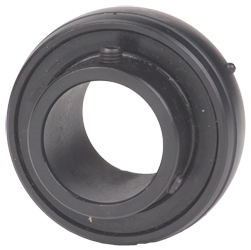 Steel nitriding and sealing creates a hard ceramic case that self-lubricates and resists scuffing, micro-welding, corrosion, and particulate abrasion for all bearing surfaces. Provides a significant service life extension when poor lubrication, liquid corrosives, start/stop rotation, or high temperatures are present.
Contact customer service for pricing and delivery on special features