CG Series hydrodynamic bearings operate under load with an oil film fully separating all bearing surfaces. They share matching dimensions with water cooled bearings, for easy interchange, but eliminate all need for forced cooling. There is no compromise in load capacity, top speed or stability.
Hydrodynamic bearings are often installed on critical applications that require careful consideration. HTB will assist in the application feasibility, selection of the proper bearing, and lubrication. Once the application layout, load, speed, and temperature have been fully evaluated, we will estimate bearing performance and supply an effective bearing solution for review. We will only take on projects that we determine to have a high probability of success.
CG-Series
No forced cooling needed
Fully housed and split bearing system
Continuous operation up to 400 °F with proper lubrication
185x the wipe resistance of babbitt metal and 30% lower dry sliding friction
Self-aligning
Oil ring or circulated oil lubrication options
High speed capability, high load capacity and very low friction torque
Long bearing life
Very low noise and excellent vibration dampening
Rugged construction: Heavy duty cast iron housing and ductile iron bearing core
Standard units available for interchange with Dodge RTL, and R-series (PL-WC and PL-XC) bearings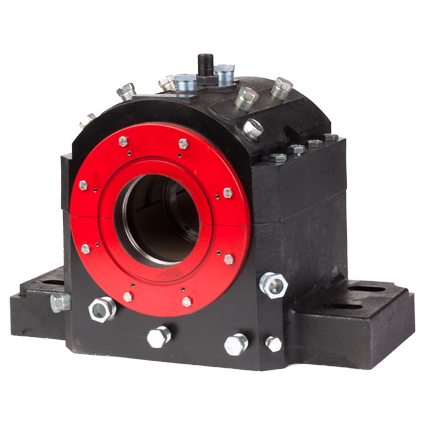 CG-1 Series:
A direct replacement for the Dodge RTL Sleevoil™ that eliminates the need for water cooling for 3-7/16" to 6" shafts. The CG-1 is a cooling free, housed, fully split, self-aligning, hydrodynamic bearing capable of accepting radial and axial loads with the same performance as a water cooled Dodge RTL Sleevoil™ bearing.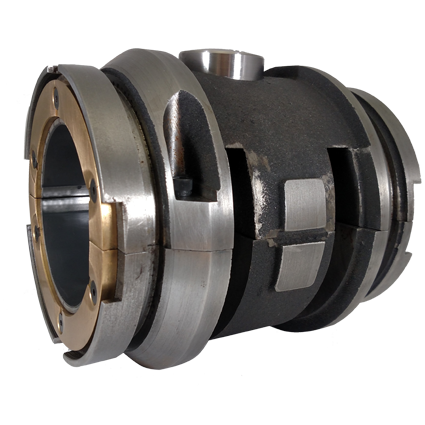 CG-3 Series:
A direct drop-in replacement for the Dodge R-Series Sleevoil™ PL-WC or PL-XC bearing liner that installs directly into an existing Dodge R-series Sleevoil™ bearing housing and eliminates the need for water or air cooling for 3-7/16" to 7" shafts. The CG-3 is a cooling free, fully split, self-aligning, hydrodynamic bearing capable of accepting radial and axial loads with the same performance as a water cooled Dodge R-series Sleevoil™ bearings.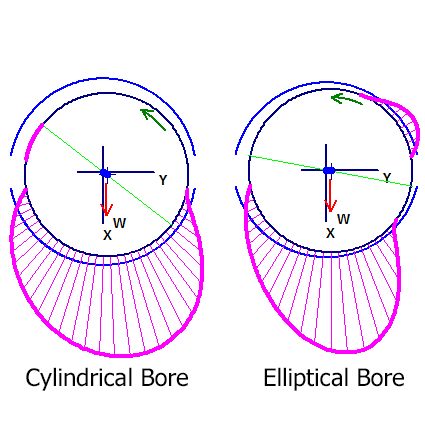 Bearing Bore:
Bearings are elliptically or cylindrically bored to our standard diameters to provide maximum dynamic stability and oil flow with common industry shaft sizes. Stock bore geometry is similar to sleevoil bore geometry. Customization of the bore is done based on the project requirements.
Lubrication:
Bearing lubrication is selected from commercially available inventory for maximum serviceability. The required oil viscosity and chemistry are determined by CFD analysis of the application. The appropriate lubricant is established and documented in the bearing solution provided to the user and can be supplied with the bearings for simplified installation planning.
Reliability:
The CG series bearing performs in a wide range of applications that previously required water cooling. We have many successful installations that have operated for years before needing a single replacement in multiple fan arrangements. Our users include steel mills, cement plants, power generation, and chemical processing facilities on rotors exceeding 20,000 lbs and up to 3600 RPM. Our process starts with a no-commitment, complete evaluation of the fan general arrangement drawings, available field data, and comprehensive discussion with plant engineering to create a high-quality project solution.
Savings:
An average of 2.25 million gallons of water a year per bearing is saved by converting from a Dodge Sleevoil™ to a CG-series bearing. Traditional Sleevoil™ bearing failures are eliminated from clogged or frozen water lines, failed supply pumps, leaks, and condensation. Cooling lines, pumps, heat tracing, and insulation are no longer needed, reducing maintenance hours. The CG series bearing is 185x more wear-resistant than conventional Babbitt-lined bearings, allowing for more startup and shutdown cycles. Typical installations achieve an ROI of 50% or higher in less than 1 year of operation. HTB has over a decade of proven installs in demanding applications, such as FD, ID, PA, and RA fans, in all types of arrangements used in steel, cement, and industrial power generation.
Installations:
---
Split Oil Rings:
Split bronze trapezoidal oil rings for use with CG Series hydrodynamic bearings. They are engineered to deliver the greatest oil flow possible and provide maximum rotational stability for a higher top speed. Our design offers the maximum possible mass per linear inch of material without resorting to exotic materials. They are dimensionally interchangeable with oil rings found on Dodge Sleevoil™ bearings and significantly increase oil flow compared to T-section rings.
Split Thrust Collars:
CG-Series two-piece split thrust collars are engineered for toughness, wear-resistance, and precision using hardened ductile iron and 4140 steel. They are fully machined on all surfaces, have hardened steel alignment dowel pins, four symmetrical locking screws to prevent twisting on the shaft during installation, and grade 8 closure bolts for maximum clamping force. They are dimensionally interchangeable with Dodge R-series and RTL sleevoil bearing shaft collars.
Split Thrust Plates:
Split bronze thrust plates for CG-series bearings. Standard non-expansions CG-1 and CG-3 series bearings are supplied with split, bearing grade bronze, bumper thrust plates. If analysis of the applications requires a more advanced solution, we offer designs with increased load capacity and reduced operating temperature. All standard HTB thrust plate options will operate in either clockwise or counter-clockwise rotation.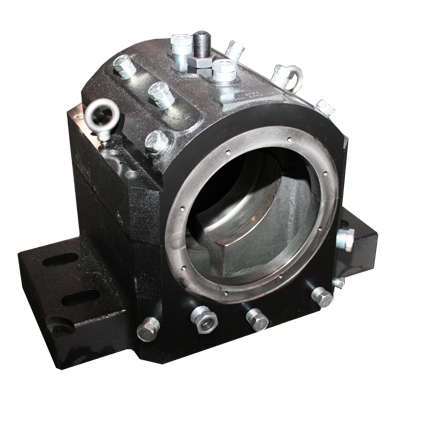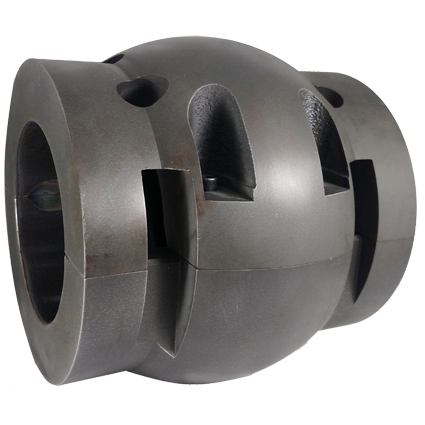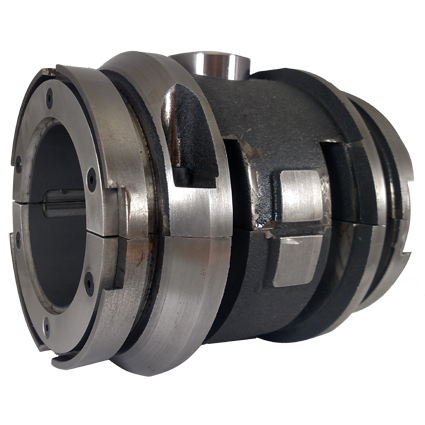 Cast Iron Housing:
40 ksi grey cast iron with an enamel paint exterior finish, machined with a precise H7 spherical bearing seat. The casting is naturally vibration damping due to the naturally occurring presence of flake graphite found in high carbon casting material and the stiffness found in the large mass and heavy walls of the housing.
Core:
65-45-12 ductile iron gives the core maximum strength and stiffness to maintain accurate bore geometry under load and is machined with a precise h7 spherical bearing seat. The split design allows for rapid exchange of the bearing.
CG liner System:
The CG-series liner is a proprietary multi-layer high-temperature resin system that can operate at up to 400 °F or more than 2x greater than Babbit metal with the appropriate lubrication. It will embed particles and resists wear 185x more than Babbit metal. The liner system combined with our lubrication and bearing design eliminates the need for water cooling, allows for more start/stop cycles, and increased protection from bearing wipe failure.
Bore Geometry:
During the evaluation process, HTB will determine if a special bore geometry is needed. The standard bore's customization includes increased clearance, modified preload, elliptical or cylindrical geometry, and liner undercut. The final bore solution is documented in the project files and quote for the user's records.
Housings Modifications
Tapping, porting, and limited milling of the housing can be performed on request or based on project requirements. Examples include tapping for proximity probes and case drains through the base.
Custom Housings and Cores:
Custom housings and cores can be evaluated for limited production. HTB will review the application a provide a budgetary estimate to move forward. In some cases, engineering costs are required if significant labor is necessary to provide a formal quote.
Contact customer service for pricing and delivery on special features