CG Series: Split Thrust Plates
---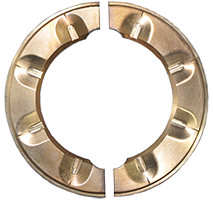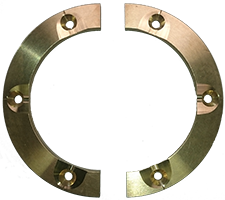 Hydrodynamic thrust bearings operate under load with an oil film fully separating all bearing surfaces. Standard non-expansions CG-1 and CG-3 series bearings are supplied with split, bearing grade bronze, bumper thrust plates. If analysis of the applications requires a more advanced solution we offer designs with increased load capacity and reduced operating temperature.
All standard HTB thrust plate options will operate in either clockwise or counter-clockwise rotation.
CG-Series Standard Split Thrust Plates:
Thrust Collar P/N

CG-1 Bore Ø

CG-3 Bore Ø

CG1-TP3438-ASM
3

7/16"
-
CG1-TP3938-ASM
3 15/16"
-
CG1-TP4438-ASM
4

7/16"
-
CG1-TP4938-ASM
4 15/16"
-
CG1-TP5438-ASM
5

7/16"
-
CG1-TP6000-ASM
6"
-
CG3-TP3938-ASM
-
3 15/16"
CG3-TP4438-ASM
-
4 7/16"
CG3-TP4938-ASM
-
4 15/16"
CG3-TP5438-ASM
-
5 7/16"
CG3-TP6000-ASM
-
6"
CG3-TP7000-ASM
-
7"
Thrust Plate Options:
HTB's low profile stepped land and tilt pad thrust bearings, have exceptional axial load capacity while generating minimal heat in a closed oil ring lubricated bearing. Their thin profile allows for a direct exchange with a basic bumper thrust plate. The stepped land design offers approximately 1.5x greater load capacity while the tilt pad offers more than 2x the load capacity of a bumper thrust bearing.