Standard and Medium Duty Mounted Bearings
---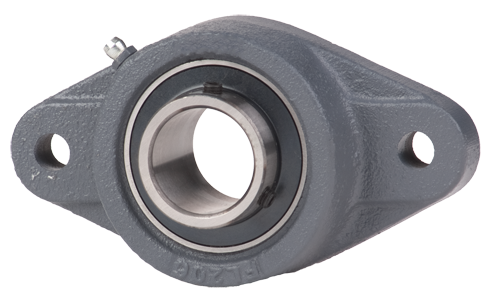 Made from 52100 alloy steel. Factory lubricated and sealed. Reliable, precise, economical, mounted bearings for general applications from -10°F to 248 °F and up to 3600 RPM.
UC, NA, UK and UCX Series Ball Bearing Features
A range of shaft locking options allow these bearings to handle light to heavy loads, high speed, and vibration. When compared to standard duty bearings, medium duty (UCX) bearings are larger to accommodate higher loads.
Bearings have the option of a close tolerance metal shield and internal NBR contact seal (B-type) or a standalone triple lip NBR seal (L3-type).
All bearings are factory lubricated with lithium grease. We also offer custom lubrication, seals, and metal treatments for improved performance.
Set Screw Locking (UC, UCX)
The industry standard for bearing mounting. Two set screws on the bearing inner race are tightened to grip the shaft to achieve a secure hold.
Eccentric Locking Collar (NA)
A collar with an off-center counter-bored recess. When mated with the bearing race and twisted, locks to the shaft without screws.
Adapter Sleeve Locking (UK)
A tapered sleeve is placed on the shaft and driven up into the bearing bore creating an interference fit. The sleeve is tightened and secured with a large nut. This design is ideal for preventing fretting on high speed equipment such as fans and blowers.
Continuous use temperature range: -10°F to 248 °F
Maximum speed: up to 3600 RPM (dependent upon bearing size)
Vacuum degassed 52100 alloy bearing steel and balls
Self-aligning outer race, C3 internal clearance, deep groove ball bearing
Steel ball bearing cage
NBR seals and zinc galvanized steel shields keep contamination out of the bearing and grease in
Standard factory lubrication: lithium base, ISO 100, NLGI#2 synthetic PAO grease
Set screw, eccentric collar, and adapter sleeve shaft locking mechanism options
Can be greased and maintained
Solid No. 35 grey cast iron or split 65-45-12 ductile housing
Dimensionally interchangeable with most major brands
Available with custom lubrication, solid carbon lubrication, and anti-wear/anti-corrosion surface treatments
---
Housings
Housings are dimensionally interchangeable with most brands, and are manufactured in a wide range of designs.
Standard:

Enamel painted, no. 35 grey cast iron housing with installed UC, NA, UK or UCX series ball bearing. Available in standard and medium duty sizes.
Split:

Split, high strength, ductile iron housing with installed UC, NA or UK series ball bearing. Ideal for hot swapping conveyor rolls and other mill equipment without the need to align flanges.
---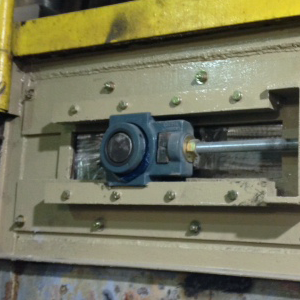 Mounted Ball Bearing Data
---
Product dimensions, drawings, load capacity, manuals and technical data sheets