Stainless Steel Mounted Bearings
---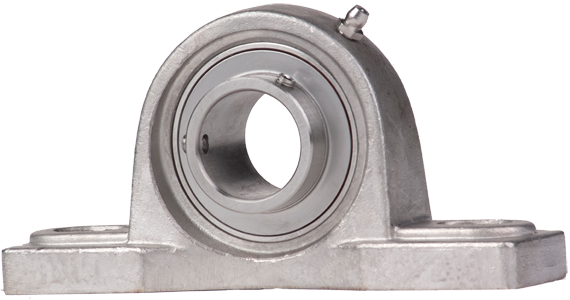 SUC/SNA series 440C stainless steel, setscrew and eccentric collar locking, mounted ball bearings. For food handling, refrigeration and corrosive applications from -10°F to 248 °F.
SUC/SNA Series Ball Bearing Features
Continuous use temperature range: -10°F to 248 °F
Maximum speed: up to 3600 RPM (dependent upon bearing size)
Corrosion resistant 440C bearing steel and balls
Self-aligning outer race, C3 internal clearance
Stainless steel ball bearing cage
Red silicone seals and 302 stainless steel shields to keep contamination out of the bearing and grease in
Factory lubricated with ISO 220, H-1 food grade grease
Set screw or eccentric collar shaft locking mechanism
Can be greased and maintained
Cast 304 stainless steel or thermoplastic (PBT) housings
Dimensionally interchangeable with most major brands
Available with HTB custom lubrication, solid carbon lubrication, and anti-wear/anti-corrosion surface treatments
---
Housings
Housings are dimensionally interchangeable with most brands, and are manufactured in a wide range of designs.
304 Stainless Steel:

Cast with smooth faces to reduce adhesion and trapping of contaminates - widely accepted for use in food service or chemical applications - it's corrosion resistance and high strength will not be compromised by chipping, scratching or heating.
Thermoplastic:

Economical, smooth, glass reinforced PBT resin. For light duty, -10°F to 210 °F applications, where resistance to oils, fluids, and chemicals found in food processing is a priority.
End Caps:

Plastic housing end caps are available to protect the bearing from contamination and increase safety from a rotating shaft.
---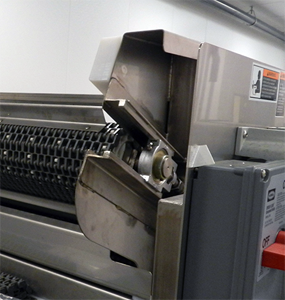 Mounted Ball Bearing Data
---
Product dimensions, drawings, load capacity, manuals and technical data sheets