High Temperature Mounted Bearings
---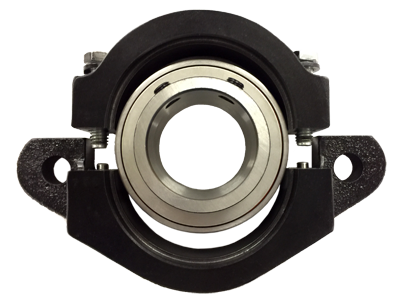 HU-KX series high temperature mounted ball bearings for use in applications above 212 °F.
Designed to operate continuously and provide long PM intervals up to 500 °F at speeds up to 3600 RPM.
HU-KX Series Ball Bearing Features
Proven Performance
Autoclave fan: 2000 RPM, 400 F, 1-1/2" HU-KX series pillow block bearing: "Just wanted to let you know that we are celebrating our 5th month running the bearing you got for us. It seemed like we were never going to get a bearing that would go a month let alone five. Thanks again for your help in this matter and look forward to having you deal with whatever problems we may encounter in the future. Thanks again, Mike Y. and Mike B." HEXCEL CORP.
Maximum intermittent temperature: 500 °F
Continuous use temperature range: -45°F to 400 °F
Maximum speed: up to 3600 RPM (dependent upon bearing size)
Heat stabilized 52100 bearing steel and balls
Self-aligning outer race, C4 internal clearance
Steel ball bearing cage
High temperature red silicone seals and 302 stainless steel shields that keep contamination out and grease in
Specialty formulated HTB550 high temperature, long lasting, non-hardening grease that will last for months without re-lubrication
Set screw shaft locking
Can be greased and maintained
Pair with any solid or split mounted bearing housing in cast iron, stainless steel, or ductile iron
Dimensionally interchangeable with most major brands
Available with HTB custom lubrication, solid carbon lubrication, and anti-wear/anti-corrosion surface treatments
---
Housings
HTB Housings are dimensionally interchangeable with most brands, and are manufactured in a wide range of designs.
Standard:

Enamel painted cast iron housing with installed HU-KX series ball bearing
Corrosive Service:

Cast 304 stainless steel housing - widely accepted as an excellent material for use in food service or wet applications - with installed HU-KX series ball bearing that has been through our

anti-corrosion treatment

will outperform standard stainless steel bearings.
Split:

Split, high strength, ductile iron housing with installed HU-KX series ball bearing. Ideal for hot swapping conveyor rolls and other mill equipment without the need to align flanges.
---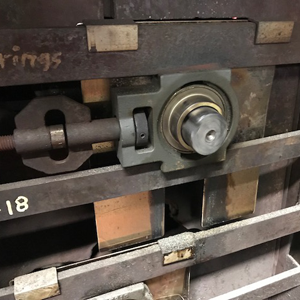 Mounted Ball Bearing Data
---
Product dimensions, drawings, load capacity, manuals and technical data sheets