Ferritic Nitro Carburizing
---
HTB's engineered ferritic nitro carburizing process creates a hard ceramic layer on the treated surfaces that is self-lubricating, resists scuffing, micro-welding, particulate abrasion and corrosion to 1100°F.
Ball and roller bearings processed through the ferritic nitro carburizing process are completely treated. The bearing will have a highly corrosion resistant uniformly hard surface of RHC 68. Most alloys used in our bearings can be treated to achieve significant service life extensions under conditions of poor lubrication supply, water intrusion, frequent start/stop rotation, and high temperature.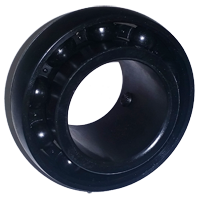 Made to Order Products
The process can be utilized with most standalone items or assemblies that require enhanced surface properties to maximize life. In high temperature sliding and wear, a 40-60% improvement in wear over alternative commercial hardening processes can be achieved.
Treatment Features
Usable temperature range: Up to 1100°F
Significantly reduces metal on metal coefficient of friction, resists seizing and metal adhesion
Will resist common solvents, acids, alkalies and other aqueous attack, superior to 440C bearing steel in 3% aerated salt water immersion testing
Maintains RHC 68 hardness to 1100°F
Can be paired with high temperature lubricants to provide maximum life in high temperature environments
40-60% increase in wear resistance versus alternative hardening processes
Surface treatment will not significantly impact tolerances, case layer is approximately .0003" thick
Can be applied to a wide range or parts or assemblies
Limitations
Maximum bearing static load capacity or maximum chain pull strength should be reduced by 50%
For custom product, yield strength should be reduced by 50% vs. untreated alloy