CG-1 Hydrodynamic Bearings
---
A direct replacement for the Dodge RTL Sleevoil™ that eliminates the need for water cooling. The CG-1 is a cooling free, housed, fully split, self-aligning, hydrodynamic bearing with the same performance as a water cooled Dodge RTL Sleevoil™ bearing.
A proven record of conversion
CG-1 bearings are installed in many critical applications with manufacturers and power plants in the United States. Our users save thousands of dollars per year, per bearing, in operating cost, versus traditional water cooled bearings. On average each CG-1 bearing installed saves 2.9 million gallons of pumped water per year, eliminating a large portion of the plant water or air distribution system including water or air lines, insulation, pumps, treatment chemicals and required maintenance.
CG-1 Construction
Housings are heavy duty cast iron with an extra thick solid base, making a ridged vibration dampening assembly. Each is equipped with non-contact labyrinth seals, the ability to use third party bearing isolators, connection to circulated oil, and installation of common thermal and vibration sensors. The bearings are self-aligning with a full spherical seat, have a centrally located thrust bearing assembly, and will operate as a fully self-contained unit using oil rings.
| | |
| --- | --- |
| | High Temp Bearings Inc. hydrodynamic bearings are manufactured in the United States. |
CG-1 Selection
For a complete technical bearing selection, evaluation is best done by direct inquiry to High Temp Bearings. We will assist with identifying the information necessary and provide a full complementary analysis. Online tools are available for experienced users.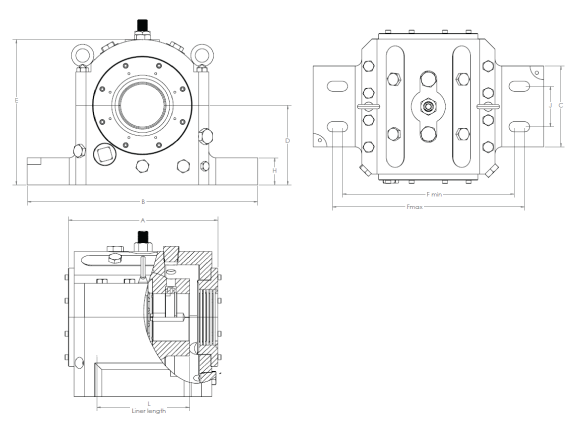 | | | | | | | |
| --- | --- | --- | --- | --- | --- | --- |
| Shaft Size | Mass | A | B | C | D | E |
| 3-7/16" | 180 | 10.875 | 16.875 | 6.000 | 5.875 | 10.75 |
| 3-15/16" | 230 | 11.625 | 18.750 | 7.000 | 6.500 | 11.875 |
| 4-7/16" | 299 | 12.375 | 19.500 | 7.500 | 7.000 | 12.750 |
| 4-15/16" | 445 | 13.375 | 21.750 | 8.500 | 7.750 | 14.500 |
| 5-7/16" | 577 | 14.625 | 24.500 | 9.500 | 8.750 | 16.250 |
| 6" | 733 | 16.625 | 26.500 | 10.500 | 9.500 | 17.625 |
| | | | | | | |
| --- | --- | --- | --- | --- | --- | --- |
| Shaft Size | F(MIN-MAX) | J | Foot Bolt | H | L | Oil Cap(US Fl. oz) |
| 3-7/16" | 12.561-14.065 | 3.000 | 3/4" | 2.00 | 6.750 | 54 |
| 3-15/16" | 13.875-15.625 | 3.500 | 7/8" | 2.250 | 7.250 | 75 |
| 4-7/16" | 14.500-16.500 | 3.750 | 1" | 2.500 | 8.000 | 131 |
| 4-15/16" | 16.625-18.625 | 4.250 | 1" | 2.750 | 8.875 | 143 |
| 5-7/16" | 18.625-20.875 | 4.875 | 1-1/8" | 3.250 | 10.000 | 215 |
| 6" | 20.125-22.625 | 5.500 | 1-1/4" | 3.500 | 10.875 | 378 |
*Print will download from link
Dodge RTL Sleevoil to CG-1 Part Crossover:
| | | | | |
| --- | --- | --- | --- | --- |
| Shaft Size | CG-1 Bearing | RTL Non-Expansion P/N | RTLExpansion P/N | RTL Core Part P/N |
| 3-7/16" | CG1-3438-x | 132362 | 132474 | 132420 |
| 3-15/16" | CG1-3938-x | 132363 | 132475 | 132421 |
| 4-7/16" | CG1-4438-x | 132634 | 132476 | 132422 |
| 4-15/16" | CG1-4938-x | 132365 | 132477 | 132423 |
| 5-7/16" | CG1-5438-x | 132366 | 132383 | 132424 |
| 6" | CG1-6000-x | 132367 | 132384 | 132425 |
CG-1 Bearing Information
---
Bearing simulation, manuals and technical data sheets